Visit to SLSLS at West Ryde 2012-12-01
The only photos I've seen of this loco in operation were taken at the Sydney Live Steam Locomotive Society Christmas party on 1978-12-02. On 2012-12-01 SLSLS had their Christmas party and Warwick Allison allowed me to run the loco there. Originally the loco ran on the elevated track only. This time I ran as pilot loco for a six carriage train on the ground level outer loop. Then I tried the elevated track which is a bit unnerving when sitting on my bum truck. Finally I ran light engine on the ground level inner loop. The track at this site is top quality as are the points and signals and signal box. A great day and a great honour being allowed to run there.
Visit to WDLS at Fairfield 2012-12-15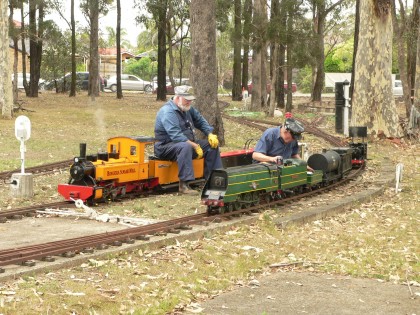 Leal Brack mentioned he was going to the Western Districts Live Steamers Christmas party and I asked if I could attend so I could meet some of the people there and also take the loco for another test run. It was a public day but there weren't many people there so I didn't haul any passengers. The photo shows Mal with his very nice Perry and Ron with his Bulleid Pacific and my diminutive loco hidden in the background. The ground level track is 5" and 7.25" and most of the points are swing-nose and work very well. Andrew turned up later with a Perry he'd just bought from Mackay. Also from Mackay were two 46s now owned by Gonzo and Leal. The track is good and has level crossings so people can get to the picnic area in the middle of the grounds. The swing-nose points certainly are the best solution for 5" and 7.25" dual gauge. Even for 5" only they still seem better than a standard point with a frog and checkrails that have to cater for different flange profiles.
Visit to CCSM at Narara 2013-01-05
We got permission to run on the Central Coast track at Narara on their January public day. The track is fairly flat with a few short grades and a nice long trestle bridge. Public runs start at 11am and things were pretty busy by then. Greg and I were going to pull a passenger train but there was a shortage of passenger carriages. So we coupled together and ran around as a pair. Later I hauled a single passenger carriage which was a good end to the day. The loco went well all day except that the injector gets hard to start on warm days. The axle pump is a great backup on days like this.
Narara is a good track for public running because it's next to a main arterial road so many people just stop for a visit when passing. The main station has easy access and there is a special party station on the inner loop. The track is long and a normal trip includes a run around inner loop and then the main loop with its trestle bridge, level crossing with flagmen, and then a long run along the back of the park. There are 5" and 7.25" tracks which are side by side for most of the run and become a gauntlet track over the trestle.