Level Crossing
The level crossing sign came from Mount Keira Tramline (I believe) and was installed here many years ago. Installation included wiring from the house so the sign can be illuminated at night.
The galvanised water main to the house ran under the track here and failed many years ago and was replaced by a plastic pipe. Unfortunately the plumber wrecked some of the track here and we had to do an initial repair in 2016 to make the track usable.
A later track repair left the sleepers bare and made it difficult to drag anything heavy across the track. So a hard surface was installed and this sloped upwards to meet the ground on the high side. Unfortunately some rolling stock fouled on this sloped surface so the latest change was to reduce this slope and lower the path leading away from the track.
Long Bridge
This three span bridge apparently came from a water board installation that was upgraded. The piers are cement tubes filled with concrete all on large concrete bases.
Driveway Bridge
This bridge has a central RSJ surrounded by two large timber beams. The trusses and side beams are not structural. This is lucky because critical parts of the side structures have rotted. Clearance under this bridge is 1830mm.
Notice that the embankment to the left has collapsed badly. This is a bit precarious. When I started clearing the track the portion at the very left of the picture was floating in mid-air so I dumped many wheelbarrows of dirt here and built up the embankment. So far it is all staying in place. If we get around to rebuilding this bridge and embankment I'll lift the bridge about 150mm so there is more clearance and less rise to the next bridge.
Coal Screen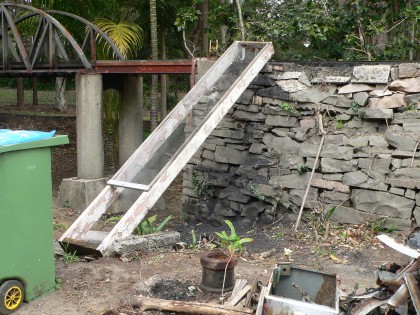 Years ago I was offered some coal that was apparently surplus from testing for power stations. It was unsuitable for real steam locos because it was more than 50% dust and all the chunks were too small. However, these small nuts are perfect for 5" locos and although the coal creates lots of ash it doesn't form any clinker.
I brought the coal to Sydney in bags and buckets and use this screen to separate all the dust. Transporting was pretty inefficient because I ended up throwing more than half (the dust) away. Luckily I'm building an earth wall at the property boundary and can dump the dust there.
Roundhouse
The five-bay roundhouse was a fine effort when built many years ago. Over time much of the wooden frame has rotted and the metal roof has rusted badly. Recently we covered the rear portion with Malthoid and have coated the entire roof with bituminous paint. Now the roof is sealed the roundhouse stays dry inside and it is safe to store rolling stock there.