Of course things should go smoothly and everything is wonderful. But it just doesn't happen all the time. Here are the problems so far.
Incorrect delivery
The shop received my payment on Monday and the lathe was shipped out that afternoon. I followed its progress via the trucking company's website and delivery was expected on Thursday. But this didn't happen and delivery on Friday was promised.
On Friday morning the truck came to the right street but the wrong address and late in the afternoon I was told about this and that delivery would now be on Monday. This was not good news for an impatient person like me.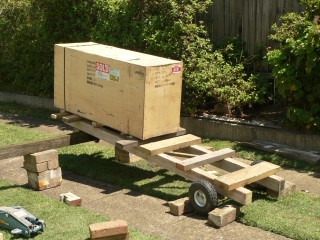 On Saturday a van arrived with the lathe. I expected a truck with a tail lift (how else does a weakling without a hoist move a 160kg crate ?) but since I was so happy about the unexpected delivery I decided to try to unload it. We put my wooden trolley at the back of the van and managed to get more than half the crate on this trolley. I let the driver go as he had spent over 30 minutes waiting in my driveway and I'm sure they don't get paid for sitting around.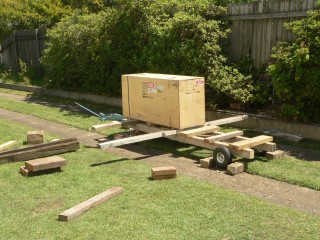 So I now had a lathe and spent the next hour slowly lowering it onto two beams so I could reposition the trolley. Just before I moved the trolley I opened the crate to make sure the heavy end was near the wheels. When I peered inside I realised it wasn't a lathe but a sheet metal folder/cutter. Arrrgh!!! I rang the shop and they arranged for the return of this crate.
This incorrect crate weighed 220kg not the 160kg I had expected. How I got it out of the van I will never know but I was strained afterwards and my back sure hurt for the next few days.